New sustainability report celebrates a year of steady progress towards our 2030 goals
Our 2021 Sustainability Report, out now, is a chance to reflect on what we're doing well, identify areas where we can make the most impact, and anticipate the challenges ahead as we continue on our journey to become the world's most sustainable industrial coatings company.
Our Sustainability Report
is testament to our commitment that we all share.
In 2021 we've seen how our people are passionate about sustainability and how it can be a driver for positive change in our culture. We've seen huge progress across all three streams, and the new report is packed with amazing stories that show the dedication, the innovation, the leadership and the efforts you put in on a daily basis.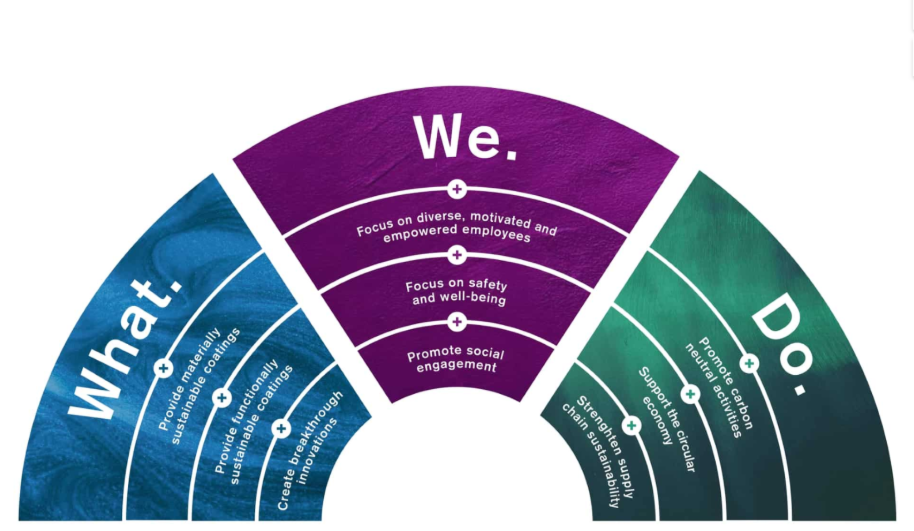 What. Products with impact

• Boosting e-motor efficiency with CPV

• Sustainable aluminum and steel – working with our customers
• Zeroing in on a low-VOC product portfolio
We. People with impact

• Beckers' global Common Cause commitment: Children and youth in our communities

• Genuine feedback culture: Our Employee Engagement Survey
• Beckers Vietnam paints a picture of a Zero Discrimination future
• Creating the Paint Plant of the Future
• Solar pilot lights the way for responsible sourcing
• Beckers Supplier Award honors our suppliers for their efforts and commitment to improve the sustainability of their operations
Beckers Group's CEO Christophe Sabas comments:
''At Beckers, we believe we can and must set an example and be at the forefront of the transformation of our industry. We want to create the maximum positive impact for our customers, society and the planet, becoming the world's most sustainable industrial coatings company.
We have made a commitment to contribute towards decarbonization by transforming our product portfolio and have built a united, motivated and committed leadership team to help us all work together, with our customers and suppliers, to drive our products, people and processes for positive change.
In 2021, our journey towards sustainability accelerated as we rolled out our 2030 Sustainability Strategy with site workshops and site action plans in line with the strategy's three pillars, People, Products, Operations, at each of our 23 manufacturing sites. We also recruited new talent and added leadership positions devoted to driving our Sustainability Strategy forward – a process we will continue as we reshape our organization to fulfil these goals."
Access the full report here
If you have questions or require further information, please contact our press office in Berlin: [email protected].