2021 Beckers Sustainability Award Operations with Impact: Fontana site wins for its work with waste
The Beckers' Fontana site in California has established more circular processes to recycle its waste acetone solvent– to realise significant financial and sustainability savings. For its work with waste, the site wins the Beckers Sustainability Award for Operations with Impact in 2021.
Since mid 2019, our Fontana site has established an on-site recycling process to ensure that all its waste acetone is reused within Beckers. As of the end of 2021, 5,550 gallons (25,200 litres) of waste acetone that would otherwise have been incinerated were instead recycled, and around $55,000 USD has been saved in incineration costs.
"Our acetone recycling project is not only good for our business by reducing costs, it also lessens our environmental impact," explains Garry Stacey, Production Manager at Beckers Fontana. "The project is a great example of how we are becoming more circular and working towards the Beckers' overall goal to repurpose over 75 percent of our waste throughout our business."
Reusing

acetone

and residual sludge

to avoid waste
The acetone used to clean mixers and mobile pots at the Fontana site previously required off-site incineration. The cost associated with incineration was around $500 USD per drum, and it created significant emissions and resource inefficiency.
Instead, the acetone is now put through a distiller that separates the residual solids from the solvent to produce clean recycled acetone that can be reused in its operations. The residual sludge left behind from the distillation process is shipped to Beckers' Elk Grove Village plant in Illinois to manufacture low-cost backer coatings.
Beckers sustainability award 2021 winner
The Fontana site is the 2021 winner of the Beckers sustainability award for Operations with Impact for its innovative reuse of residue sludge to promote circularity.
"Waste solvent is a major issue at every Beckers site that will remain for the next decade as we continue to manufacture products with solvents," says Laurent Legendre, VP Global Operations Development. "Not only is our Fontana site recycling used solvent through distillation, but the team is also reusing the residue sludge to promote circularity and zero waste. This is really innovative and why we selected Fontana as the sustainability award winner in 2021."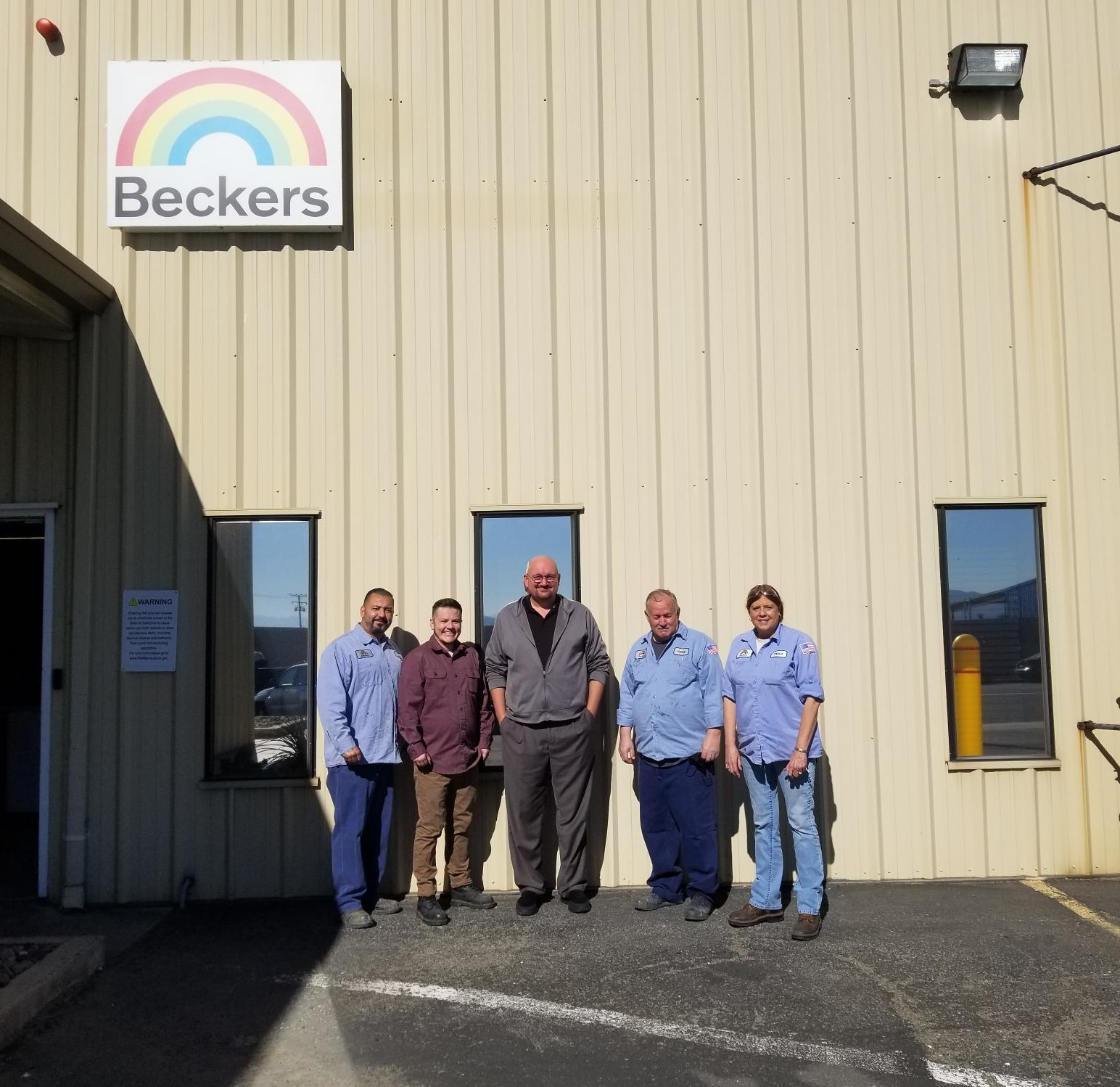 From left to right: Frank Villaescusa (responsible for checking cleanliness of recycled solvent), Cato Blackwell (arranges for residual solids to be sent for use in backer coatings), Garry Stacey, Jorge Estrada (tests and consolidates residual solids for use in backer coatings), Paula Jones (carried out the research how to use residual sludge in backer coatings)
Value chain collaboration
Our team in Fontana found a local hazardous waste recycling company that was able to recycle our waste solvent – rather than mixing multiple solvent waste streams as many companies do. It was important for us to find a supplier that could deal with 100 percent recycled acetone to ensure we meet California regulations on Volatile Organic Compounds (VOC). The team made a small facility modification to allow the recycling company to work on the Fontana site.
"The recycling partner has a mobile service where they bring their equipment and personnel and conduct the distillation on site," says Stacey. "They carefully control the on-site recycling process to ensure the residuals are separated and that no other materials contaminate the acetone. This ensures that we meet state VOC regulations regarding recycled acetone."
The Beckers Sustainability Awards were founded in 2017. They are designed to recognize and reward projects and colleagues who add real value toward reaching the goals of our 2030 Sustainability Strategy.