Doubling our Community Investments to support children & youth
A roundup of actions and initiatives from across the Beckers Group
Community Engagement is a central strand of our sustainability strategy. Our sites, and our people, belong to their local communities and we cannot be sustainable unless our contribution to these neighborhoods and regions is positive. Through our actions, we want to not only be considerate neighbors but actively enable our communities to flourish. In 2022, we continued to focus our community engagement on our Common Cause: children and youth. Our sites have supported young people in their communities and beyond with many projects.

In 2022 we doubled our financing of volunteering activities, charities and community projects outside our company compared to 2021. Out of 17 countries in which we operate, 11 engaged directly with their communities through various projects.

We also continued with our strategic approach to community engagement, following a Common Cause for the entire Beckers Group: children and youth. The young are frequently celebrated as the bright hope for the future, yet children and youths are often among the most vulnerable groups in society. Therefore, we are committed to making their lives better in the community, as well as in the workplace and marketplace.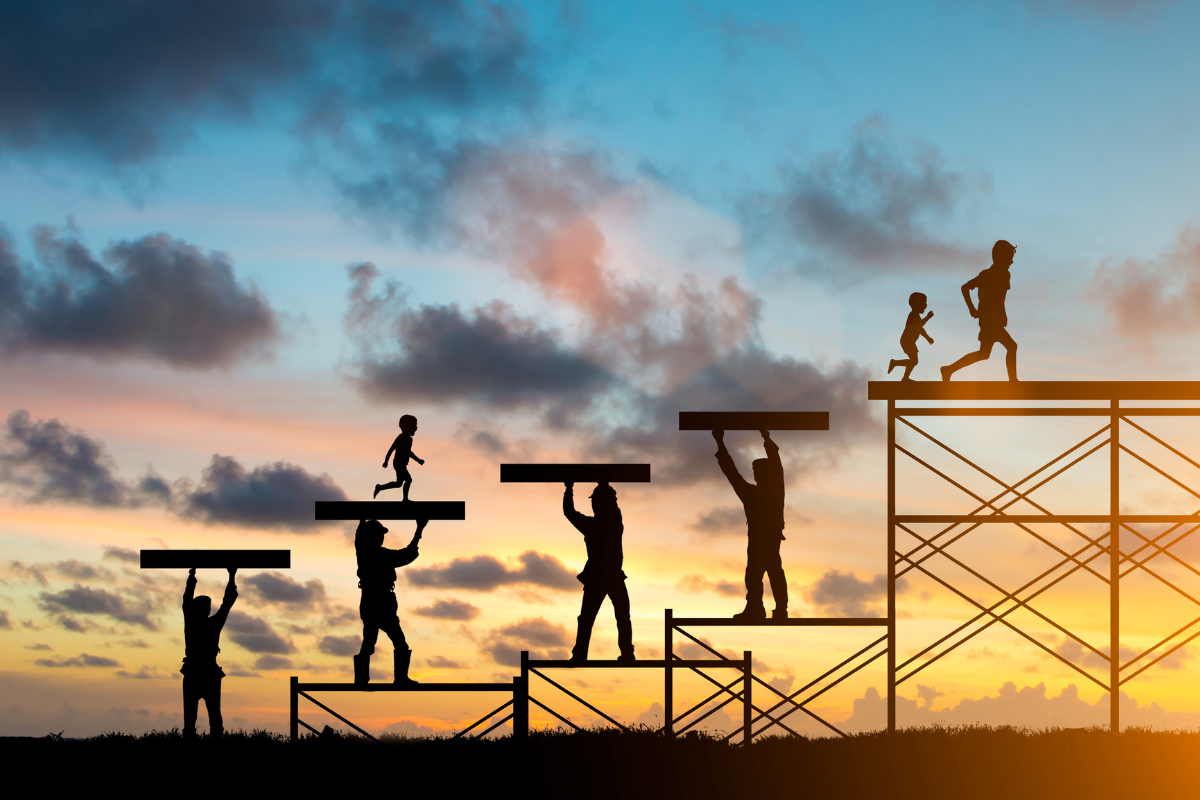 Measuring

our impact
We at Beckers want to go beyond just looking at the invested money, the hours spent on community engagement or the participants from a community. We want to measure the real impact. Building on our existing Common Cause Commitment, and backed by our owners Lindéngruppen, we have now created a Community Engagement Key Performance Indicator (KPI). This will enable us to measure progress and set targets that specifically address community engagement priorities. The Beckers Group Community Engagement KPI, agreed with our owners Lindéngruppen, prioritizes actions that can be shown to improve the lives of younger members of our communities. To this purpose, we have now added the following metric, which will be used in evaluation of the success of Beckers Group's performance: The total number of children and youth impacted positively. This is a long-term project where we will also learn and improve along the way.
Turkey and US: Marathons to support children
Our colleagues at Beckers Turkeyparticipated in the Istanbul Marathon, the only intercontinental marathon in the world, for the purpose of raising funds to support children who suffer from cancer. The team trained together and then completed a10 km marathon. Additionally, Beckers Turkey also donated to this foundation.It was a great experience for our employees to make an awareness for social responsibility and engagement.
The Beckers US team members participated in a community run, with proceeds going to the Children's Advocacy Center of North & Northwest Cook. The center is unique, providing crucial support for children and families impacted by abuse and violence. Last year the center helped over 1,000 young people access free medical and therapeutic care as well as providing advocacy and legal support with all services available in English and Spanish.
Vietnam: Safety for all of us
Safety is a topic not just for us as Beckers employees but for our whole communities and especially for our families. According to the motto "Choose Safety - For Your Family", in Vietnam, employees' children were invited to participate in a common safety day with a lot of practical information and exercises. They learned about safety – a sharp reminder of the high stakes involved and why safety culture must always be our shared number one priority.
UK: Local Christmas Appeal
Each year a few colleagues from UK arrange for toy collections for a local charity offering support to and safeguarding women, young people and children who suffered from domestic abuse. Beckers personnel brings in gifts for the children. The toys go to children of all ages who with this would have a difficult Christmas.
Germany: Inspiring the next Beckers Generation with science
Our colleagues at Beckers Germany in Dormagen invited their families to the site in autumn last year: Sustainability education for the next generation is a key priority, not just at Beckers but for the world. What better place to start than with our own families? Combining a family festival with hands-on sustainability related activities and science content is a great way to raise awareness among children and young people - and a reminder of what's at stake. Colleagues from production, the warehouse and the development lab led groups around the site, giving families a rare behind-the-scenes glimpse into what goes on at the plant and the laboratories. Meanwhile, the R&D team put together an interactive product display showcasing the innovation and technical challenges and helping our wider communities understand the role of science in taking on the climate emergency. As well as a chance to see where Mom or Dad works, the Family Day brought into focus the mindset shift that is already underway at Beckers and which we want to instill into the next generation. This came to life through a painting competition on the topic of sustainability. Giving young people access to the tools and the science behind our business is also a timely reminder of why sustainability matters and the responsibility we have to deliver the necessary changes that we all want to see.
Mexico: Support for children from nearby communities in the national soccer competition
The local team in Mexico supported children from nearby communities in the national soccer competition, sponsoring a soccer team and participating in the activities. The soccer team is set up to empower and motivate young people. It also provides strong social and emotional support. The event was organized and coordinated in partnership with the municipal and state social welfare program.
Poland: Colleagues plant 4000 trees, while learning about sustainable development
In partnership with local forest rangers, a team of 70 Beckers volunteers spent a day planting trees to kickstart a long-term environmental stewardship program near our site in Tarnow, Poland. The aim of the project is to educate Beckers people for sustainable development and raise awareness on environmental protection and climate change. Among the trees planted are species of oak that can live for over 1000 years. There are also lime trees that grow more quickly, annually around 40-50 cm in height and 30-35 cm diameter.
US: Recycled and sustainability themed decoration-making
Our US colleagues teamed up with a local wildlife park during the winter Holiday season to decorate a tree, bringing a sustainability theme to life. Beckers employees repurposed old ornaments and created new ones out recyclable materials, supporting local businesses and raising awareness within the wider community.
South Africa: SPAR Women's virtual challenge and support for children's shelter
For Nelson Mandela Day in South Africa, Beckers staff joined up with an orphanage in Vereeniging. They helped create a sustainable vegetable garden, which would be looked after by the children in the shelter as one of their development activities. The team also conducted safety checks and repairs, and spent time getting to know the young people, boys aged between eight and 19, many of whom have lost parents and experienced neglect, maltreatment and extreme poverty.

The Beckers South Africa team also participated in the SPAR Women's Virtual Challenge, a nationwide fundraising event to support girls from disadvantaged communities, who often lack such basics as sanitary products, with the effect that many girls stay out of school while they are on their periods. Proceeds from the entry fee are used to ensure that every girl has access to female hygiene products, regardless of their ability to pay, removing the shame and helping keep them in school.
Beckers Global: Donations to UNICEF and Save the Children
On a global level we partnered with UNICEF to support children and young people in Ukraine in March 2022. Beckers is a member of the Global Child Forum's Business Sounding Board, a pool of businesses set up to define and implement strategic ideas around improving children's lives.

In 2022 Beckers also began a strategic collaboration with Save the Children. This included a review of Beckers' policies and commitments to children's rights, and an assessment of how well we are doing in our efforts.